After an absolutely wonderful weekend spent at the Genesee Country Museum's annual 1812 event, it was such a splendid surprise to receive the Sisterhood of the World Bloggers Award from Jill of
Elegant Homestead
fame!
Official Award Rules:
Thank the blogger who nominated you, linking back to their site
Put the Award logo on your blog.
Answer the ten questions sent to you.
Make up ten new questions for your nominees to answer
Nominate ten blogs.
Now, onto the blogging fun...

1) Thank you so much, Jill!!
It was such an honor to receive your nomination! You're always so sweet and leave the kindest comments on my blog. Plus, she shares the most brilliant creations over at
Elegant Homesteads
!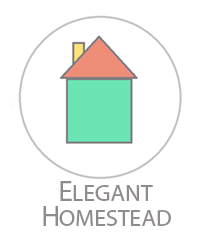 Make sure to check her blog out for all things vintage, fashionable and crafty! (Is this not just the cutest little
Bluebird Bunting
? ;) Thanks again, Jill, for all of the encouragement!
2) Done!
3) Jill's Questions:
What was your favorite toy to play with growing up?
Does a little sister count? Otherwise, I think it was a toss up between the play kitchen and the overflowing dress up box...the two of us spent hours days months years playing the most imaginative games together!
If you could try any sport you've never played, what would it be?
I've always been interested in archery!
In what kind of setting is your dream house located?
Honestly, it often changes from day to day. Right now I'd say near the ocean - with large, glass, floor-to-ceiling windows looking out onto the most beautiful, endless seascape.
What is the last color nail polish that you painted your toes?
The gaudiest of bright reds.
If you could change one thing about your blog that is beyond your control, what would it be?
Hmm, that's hard...perhaps receiving more feedback from readers? It sounds silly, but I just smile whenever I hear from someone!
What is something you would like to be better about doing by this time next year?
Without doubt, I would love to have more confidence and less fear of mistakes when it comes to sewing!
Have you ever help rescue a sick or injured animal?
I have a soft spot for all creatures, especially feline friends! However, I can only think of two injured animals - a sparrow and a praying mantis - that my family and I were able to help.
You wake up in the morning and open your eyes, what is the next thing you do?
Smile widely, try to remember the date, and then, proceed to launch a search mission for my glasses!
If you had to choose between never smiling again or always having a bad hair day, which would you choose?
Definitely the never-ending bad hair day - I'm smiling now just thinking about it!
If you could call one person right now and tell them you love them, who would you call?
My mom, hands down, the most supportive person in my life.
4) My Nominations: Some of my most favorite, inspirational bloggers out there!
5) My Questions:
Why did you begin blogging?

Who or what sparked your interest in costuming?

What do you find more exciting: the designing or the sewing process for your costumes?

What is your all-time favorite period drama?

If you could travel anywhere in the world for a week (all expenses paid), where would you go?

If you could have a conversation with anyone from the past, who would you choose & what would you ask them?

Which do you prefer more: mornings or evenings? Why?

What accomplishment(s) in the past year made you the proudest?

What do you hope to accomplish this year?

What is on your sewing wish list?
Have fun!